Have you ever thought of converting an AI vector file to PDF, but were worried about image quality loss? AI is the native format of Adobe Illustrator and is preferred by many graphics designers for storing and editing vector-based drawings. However, handling an AI file might pose some difficulties. Why? Firstly, vector files tend to be very large in size. So transferring them by e-mail, for example, might be an issue. Secondly, viewing and editing such files requires having Adobe Illustrator or a similar advanced graphics editing software installed on your computer. These types of programs are difficult to use for non-professionals and are quite expensive.
Hence, if you plan to send the images you created in an AI format to people who only have regular image viewers installed on their computer, you will need to convert the images to a more accessible format. And you have several options here. One would be to convert your AI files to JPEGs. Though this would provide you with a smaller-size image, which is easier to transfer and view, converting to JPEG might also you mean the quality of your images might be seriously affected.
For this reason, we recommend converting your AI files to PDF, thus ensuring you preserve image quality when you switch from vector to a more accessible format. Completing such a conversion can be a fast and easy task when you are using a powerful converter such as reaConverter.
This software supports batch conversions in and from over 500 image formats and will proficiently transform all the AI image files you need into PDFs, while at the same time preserving their quality.
Install reaConverter and make full use of its 15-day free trial. You won't need more than a few seconds to get familiarized with its user-friendly menu. All you need to do is follow these 3 easy steps:
1. Add AI Files
Start reaConverter and Load all the AI files you intend to convert: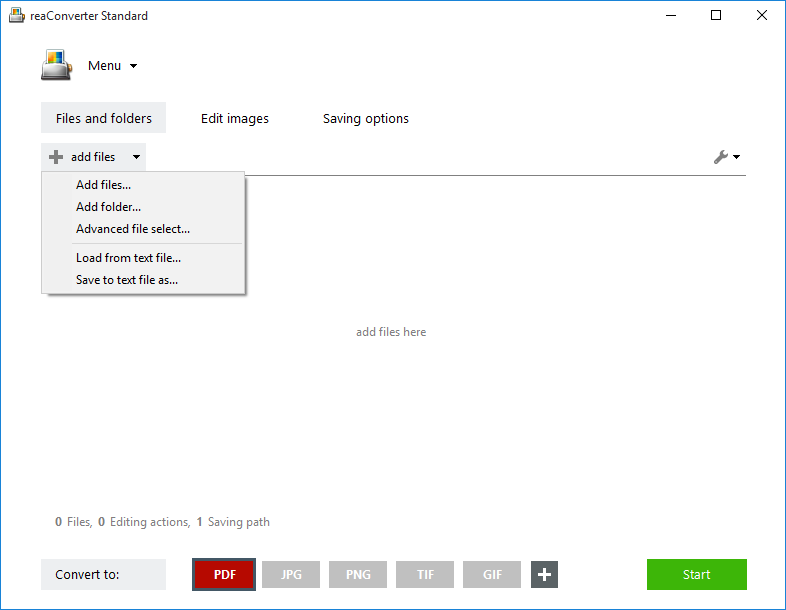 2. Edit images
In case you want to make sure that no one will use the content of the AI files you have created without asking for your permission, reaConverter lets you add a text or image Watermark on all the image files you are about to convert.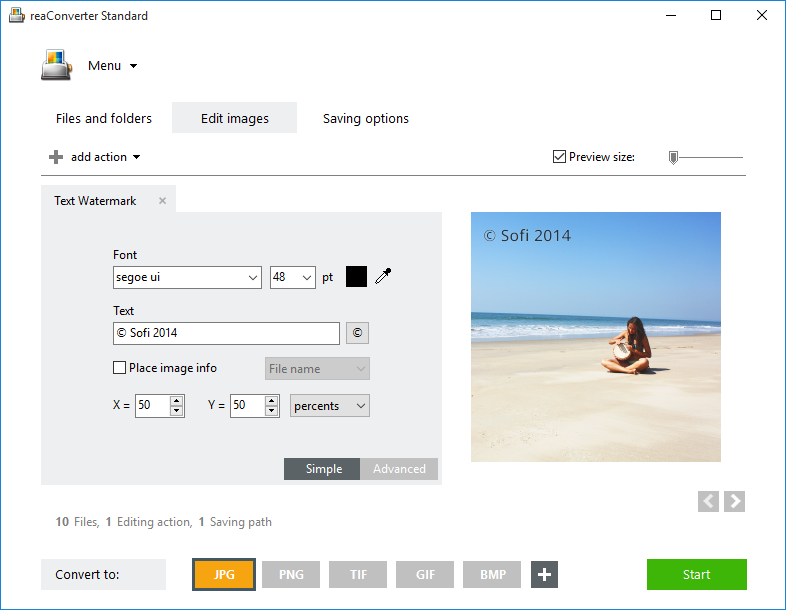 This is just one of the features available in the second step of the conversion process. Here you can also apply a large array of other image editing options, including the addition of image effects or filters, adjusting brightness and contrast, and many others.
3. Save the Result
Choose the destination folder and format of your output file. Pick PDF as output format conversion. You can also go to PDF security settings for additional file permissions.
Once this is completed, press the Start conversion button, then sit back and wait a bit — your newly converted images will be ready in no time!
Advanced users can convert AI pictures into PDF automatically using Command Line Interface, Watch Folders, or DLL. You are welcome to contact our technical support when you have any questions about reaConverter.