Whether you are practicing photography professionally or just as a hobby, you probably like to enhance the quality of your digital pictures by adjusting things such as framing, contrast, white balance and exposure. And in order to have all the control you need on such aspects and several others when it comes to customizing your photo, you probably prefer creating images in a RAW format. In case you are also a Pentax fan, and just got a sleek K-30 model, for example, which you immediately set to take RAW images, you might be puzzled to discover a bunch of PEF files recorded on your camera's memory card. What are these files and how to handle them?
The PEF extension is used for RAW image files taken with a Pentax camera. As opposed to JPGs or PNGs, RAW images are not processed automatically according to your camera's predefined settings and are not compressed, so they retain most details and colours that you saw with your own eyes when taking the picture. Setting your camera to take a photo that looks almost exactly like you saw it in reality is really great for a passionate photographer, because he/she has a lot of freedom to apply further editing on the digital photo, highlighting or foregrounding specific details, playing with lights and shadows. But how to do this if you are not an expert in using an advanced digital editing software? Or if you do not have a computer with high processing power, that would be able to handle the huge size of a RAW image without freezing when you least expect it?
The answer is simple: convert your PEF images! Or even better, pick a converter that not only allows you to transform your image into a more accessible format, but also lets you apply a wide range of editing options to your output image. So here is a step-by-step guide for doing this fast and easy:
Install reaConverter
Download and install a piece of quality software, which allows batch conversion and doesn't take too much space on your hard drive. reaConverter can be downloaded and tried for free at this address: www.reaconverter.com

Load PEF photos
Load all the PEF files you need to convert and then select from the long list of editing options available. You can choose to rotate or resize your images, to mirror or crop them. And my personal favourite is the Watermarking option, which is exactly what a photographer needs in order to protect the copyright of photos. Watermarking means that you can apply a text or an image on each of the converted photos, with a customizable size, position and degree of transparency. This is wonderful when you want to make sure no one will take your photos and use them without your permission.
Convert
Choose the format of your output image: JPG, PNG, and TIF are just some of the available options.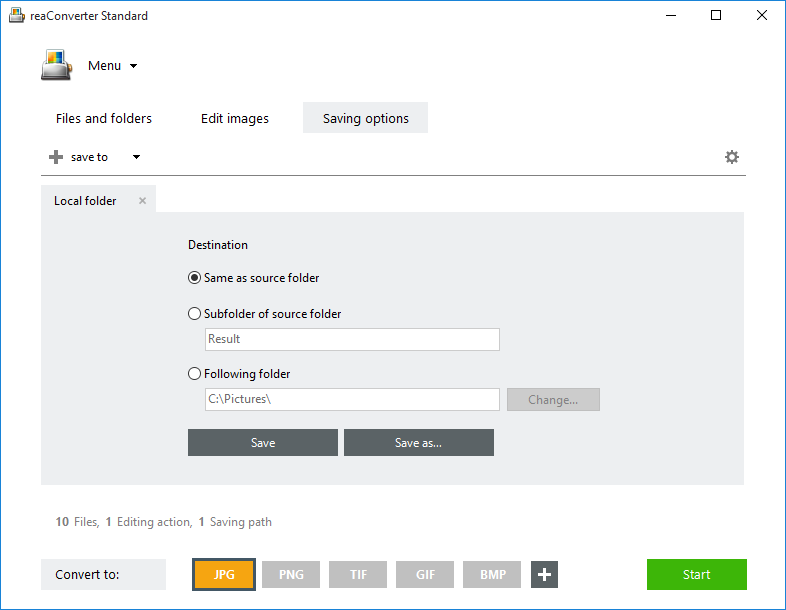 And then just start the conversion and enjoy your images in no time!
Video Tutorial
Online PEF Converter:
reaConverter is a highly efficient tool for managing a large amount of PEF photos on a frequent basis. However, if you are planning to convert only a few PEF files and only once in a while, then you can also try online RAW converter imverter.com
Advanced users can convert PEF pictures via command line interface in manual, automated or scheduled mode. You are welcome to contact our technical support when you have any questions about reaConverter.