Batch image adjust with ReaConverter Pro!

Being a convenient and powerful batch image adjust tool, ReaConverter can be also effectively used for photo and image editing. It supports a wide variety of editing operations allowing you to create as high quality pictures as only possible.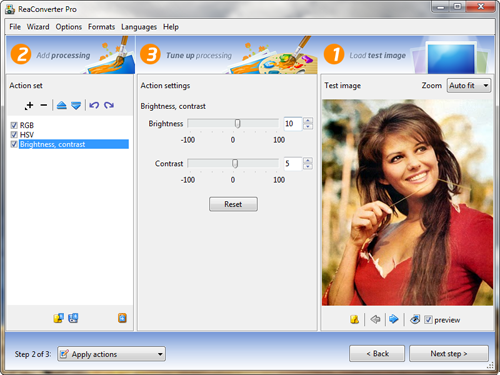 RGB - This function can be used for color correction, and allows you to increase or decrease the amount of Red, Green or Blue color on your image.
HLS - HLS is an acronym for Hue/Luminance/Saturation. You can use this action to get an effect of a gradual transition of tones from dark to light and light to dark. Adjusting hue represents a move around the color wheel. Adjusting saturation, or purity of the color, represents a move across its radius.
HSV - The HSV (Hue/Saturation/Value) action changes the color of picture with another color base using Hue, Saturation and Value (lightness) parameters. Changing saturation makes your picture more colorful. Change of lightness gives a more realistic effect than change of brightness.
Brightness, contrast - Allows you to adjust brightness and contrast of an image.

Download ReaConverter! Try it for Free.

Advanced users can do the same using command line utility in manual, automated or scheduled mode. You are welcome to contact our technical support when you have any questions about ReaConverter.