User interface
Step 3 - Save result
---
In this section the user interface components of ReaConverter 'Step 3 - Save result' are described.
The 3rd Step interface includes four main parts: "Destination" area (displays destination folder options), "Output format" area (displays output format and its parameters), "File options" area and "Modify filename" area.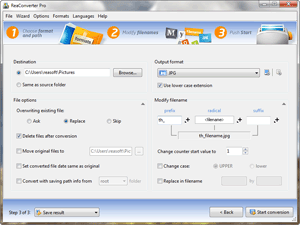 Navigation
You can navigate through your file area to choose your output folder using "Browse".
Select the extension (BMP, TGA, PNG, TIF, etc.) to save selected files in.
To specify saving settings for a specific format, click the "Format settings" button at the "Output format" area.
To specify advanced settings (Multipage, output color and dpi resolution, alpha, IPTC and EXIF information) related to all formats, click the "Additional settings" button at the "Output format" area.
To save converted files with edited file name's cases use "Lower case" or "Upper case" (change case of selected files) or point "Use lower case extension" to save all files with lower case extension.
You can also change the file names using "Prefix/Suffix" settings. It can be text, numeric, date or time, an example area will show a result.
To rename converted files use "Replace in filename".
---
See also:
Saving images
Saving parameters supported
How to create thumbnails