Are you worried that editing a large group of images requires having advanced image design software installed on your computer? And programs such as Corel or Adobe Photoshop not only tend to be quite pricy, but also require a powerful computer, take up a lot of space on your hard drive and are not necessarily easy to use?
Applying batch editing to your photos no longer has to be a difficult task if you use reaConverter. This powerful software doesn't take up too many resources on your computer, is completely user-friendly, and can be used not only as a proficient converter for over 400 image formats, but also as an easy-to-use image editor. Cropping, resizing or watermarking a group of images is only a few clicks away and is really fast and simple to operate.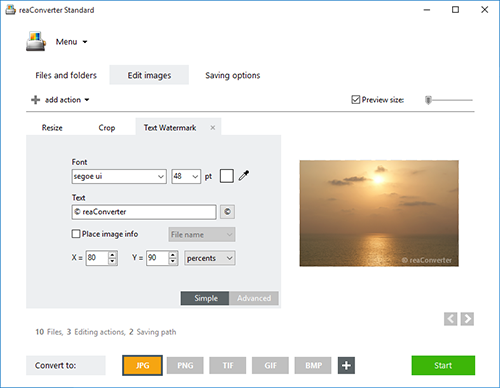 Here are 10 of the most popular image processing operations that you can apply with reaConverter:
Download and try reaConverter Pro
Advanced users can do the same editing using command line converter in manual, automated or scheduled mode. You are welcome to contact our technical support when you have any questions about reaConverter.