If you are the proud owner of a freshly released NX300, or of another Samsung camera model, you might soon discover that answering the question in the title is not as easy as it seems. When downloading the first series of photos on your computer, you might discover their format is not JPEG, PNG or any another image extension that your regular photo viewer can easily recognize. Instead, you will see a bunch of SRW files that your computer does not know how to open and edit.
SRW is the extension typically used by Samsung cameras for RAW images. Or in other words, images that include a minimum of processing from your camera's digital sensor, which makes them as close as they can get to what you actually saw with your naked eye when taking the photo. No colour corrections, no noise reduction. The RAW format is great to use if you care about the quality of your photographs, because it allows you to carefully control how the image will look like by adding digital editing yourself. However, as RAW images store a lot of data, they tend to have very large sizes and this makes them difficult to send and store, especially if you are not using a powerful computer. Moreover, opening SRW files requires having an advanced image editing program installed, such as Adobe Photoshop. Such programs are not always easy to buy, install and use, and take up a lot of space on your computer.
For these reasons, a quicker and easier way to handle your SRW files: get a powerful converter! One which will not only allow you to transform them into image files that are easier to store and send, but will also allow you to apply an extensive set of image editing options. We recommend using reaConverter.
And this is not only because it's quick to install, easy to operate and can be downloaded and tested for free. But for a few other reasons too, such as:
It allows for batch conversion, which means you won't have to load every image individually, as other online free converters usually require, but convert all files at once. This will save you a lot of time and energy!
It offers you a wide range of formats to convert your photos in. JPG, TIFF, BMP and PNG are just some of the options.
It provides an impressive array of image editing options, which basically let you have all the advantages of using an advanced graphics editing program, but without the hassle of having one actually installed on your computer. reaConverter allows you to really fine-tune the quality of your output image, by adjusting the RGB and HLS balance, resizing or applying colour correction, watermarking pictures.
Here Is How reaConverter Works:
Download and install reaConverter. It can be downloaded and for free from reaconverter.com. Pick Standard edition to handle SRW photos.
Load Your SRW Files
Start reaConverter and load one or more SRW files from your camera into reaConverter by using the drag-and-drop tool or by browsing them manually.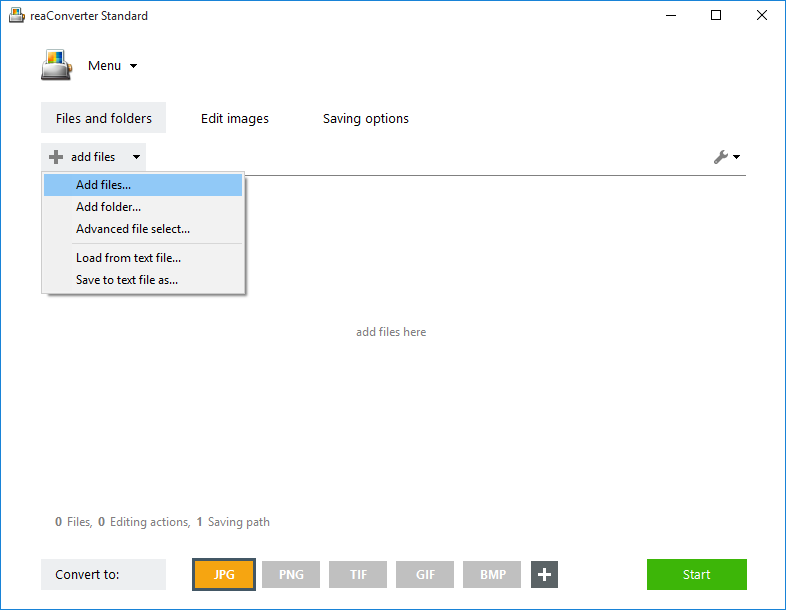 Apply Image Editing
Go the Edit images tab, click Add action, to add image editing and color correction to your images.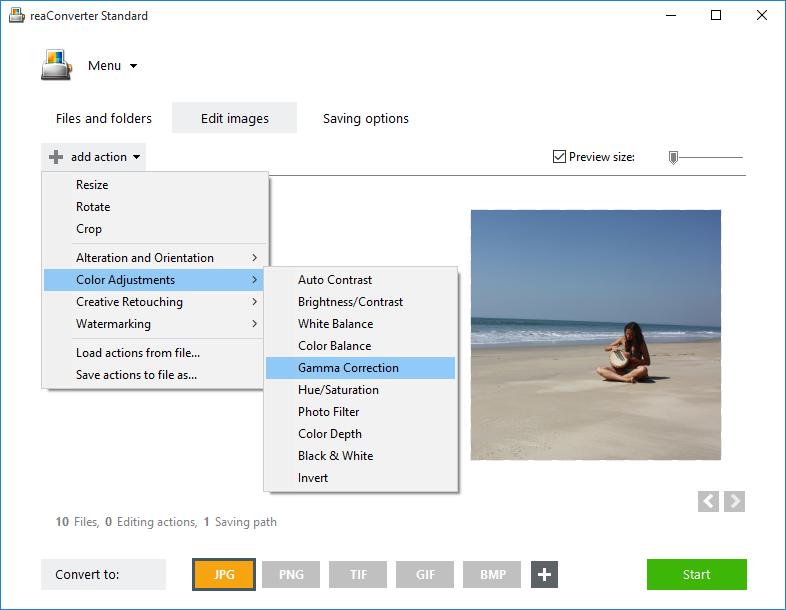 Apply Editing and Save the Result in Desired Format
Go the Saving options tab and decide where you want to save your converted pictures. Finally, pick a new extension for your output files. Click on one of the buttons placed in the lower part of the screen or find more options by clicking the +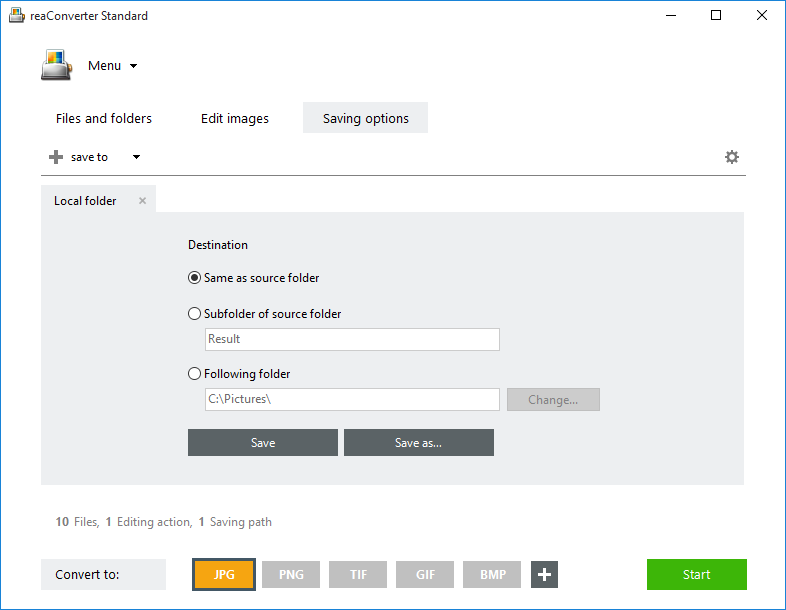 Then simply press the Start button and enjoy your converted and edited photos soon.
Online SRW Converter:
reaConverter is a highly efficient tool for managing a large amount of SRW pictures on a frequent basis. However, if you are planning to convert only a few CR2 photos and only once in a while, then you can also try online RAW photo converter imverter.com.
Advanced users can convert SRW files via command line interface or DLL in manual, automated or scheduled mode. You are welcome to contact our technical support when you have any questions about reaConverter.