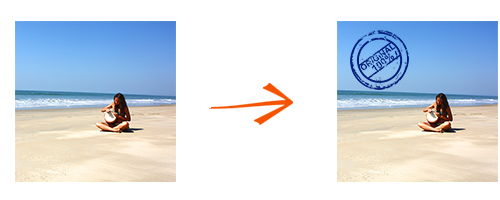 Are you worried that your photographs might be used without permission once you post them online? The easiest way to make sure your author rights are protected is to add a visible watermark on your photos. This is the equivalent to adding a signature — it can be your name or the initials of your name, your logo, a quote, or any other type of text or image you find suitable. Watermarking is also a good way to keep track of your photos; you can use it to create date stamps or to mark EXIF or META data on your photos.
What is the easiest way to apply watermarking on all your desired photos at once, thus avoiding repetitive and dull operations? Instead of searching for specialized software, that might be expensive and/or difficult to use, why not use reaConverter's image editing features for watermarking? This high quality and user-friendly software not only works as a powerful batch conversion program, supporting over 500 image formats, but can also function as a watermarking tool for your images. reaConverter Lite edition is completely free and supports batch image watermarking features.
How does it work?
Open reaConverter to select all the images you intend to watermark and add them manually or drag-and-drop them to the file list.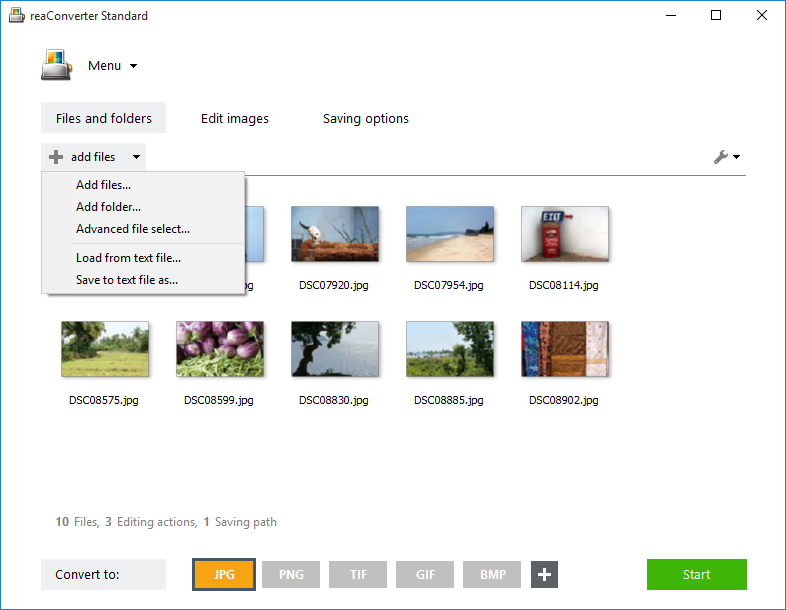 Then move on to the Edit images tab, where you have a wide variety of image editing options available. Take a few moments to browse through the actions and pick one of the four watermarking options: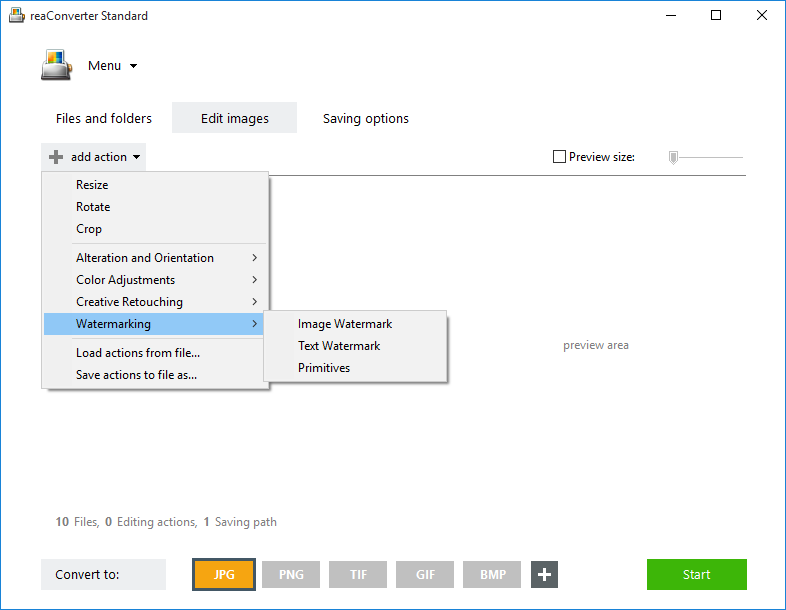 Image Watermark
Take any image from your computer and position it anywhere you like on your photo. For example, you can place a small and discrete logo in one of the photo's corners, or you can add a large one, placed transparently over the entire image. reaConverter allows you to rotate or resize the watermark image, as well as use the Opacity feature to control its transparency. You can always check how the image will look like in real time by ticking the Preview button, in the upper right corner of this window.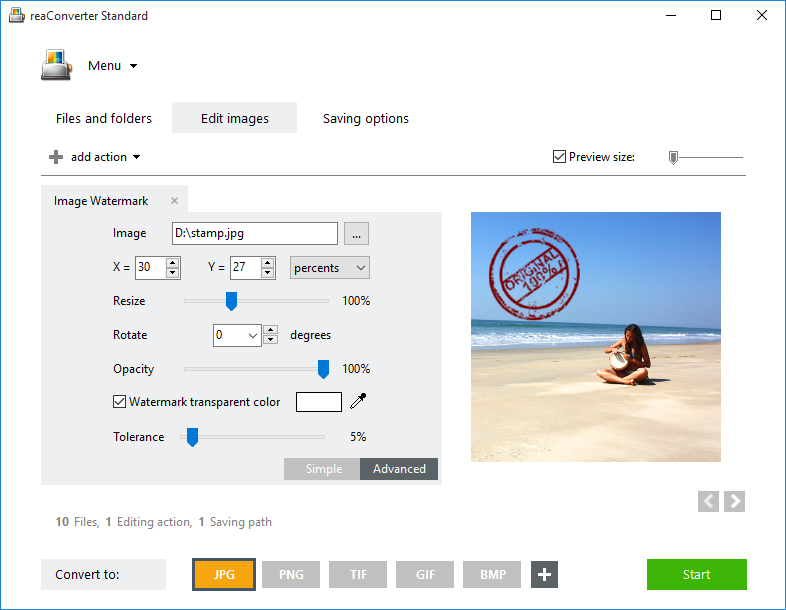 Text Watermark
Place your name, your initials or any other text you think is relevant on your photos. ReaConverter allows you to customize its font and size, as well as add the copyright symbol and the hash sign if you choose to. You can also use the text watermark feature to add a date stamp on every one of your photos, the image description or a page number. As in the previous case, you can position and rotate the text, control its transparency and preview how it will look like on the photograph.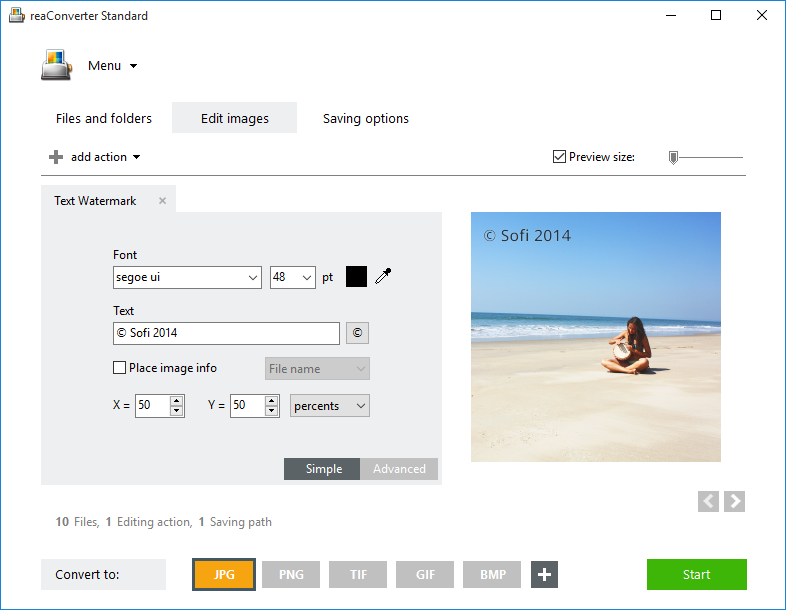 Dynamic Watermark
In case you have an entire series of photos that you want to watermark and you don't plan to use an identical text for each of them, reaConverter allows you to place customizable info on each photo. You can opt for inserting the image file name, it's EXIF ingormation as watermark, copyright information or description, the full date and time when the photo was taken, as well as several other different details connected to each different photograph.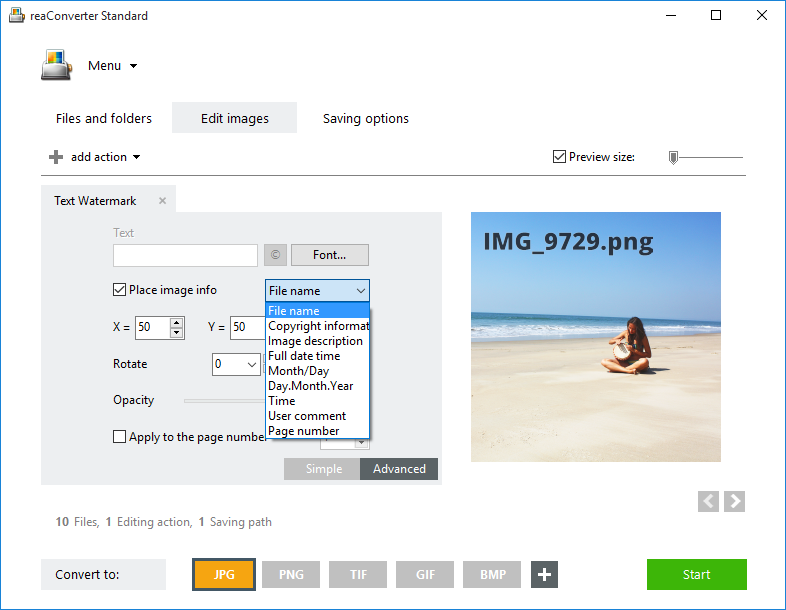 Primitive Drawings
Also described as basic elements used in computer graphics to help in structuring more complex images, primitives can take the form of lines, squares, circles and other similar shapes. reaConverter Lite includes a simple and intuitive feature for watermarking with primitive drawings, that also involves a rich array of customizing tools.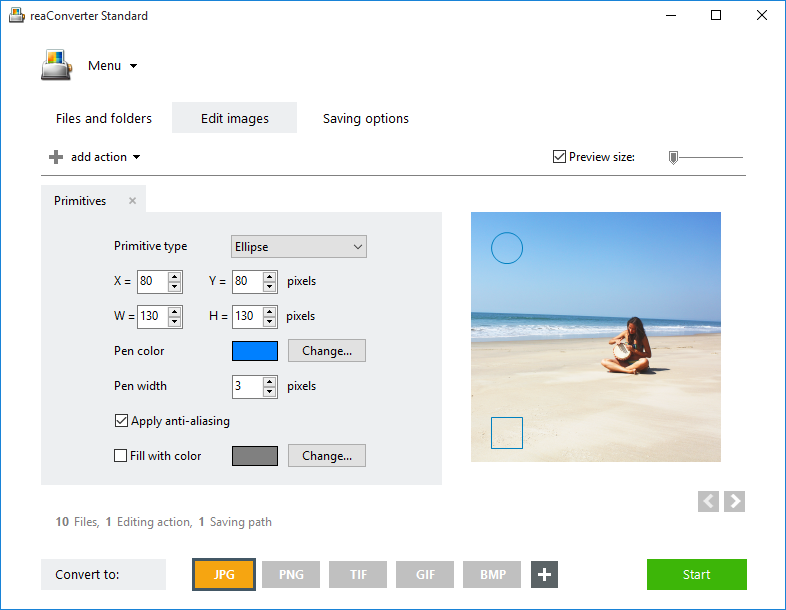 Apply Watermarks and Save the Result
In case you are using reaConvert only as an free watermarking tool, in the final step of the conversion process, pick the output format of the image to be the same as the input format. In case you want to take advantage of the conversion services offered by this software too, pick the desired extension from buttons at the bottom.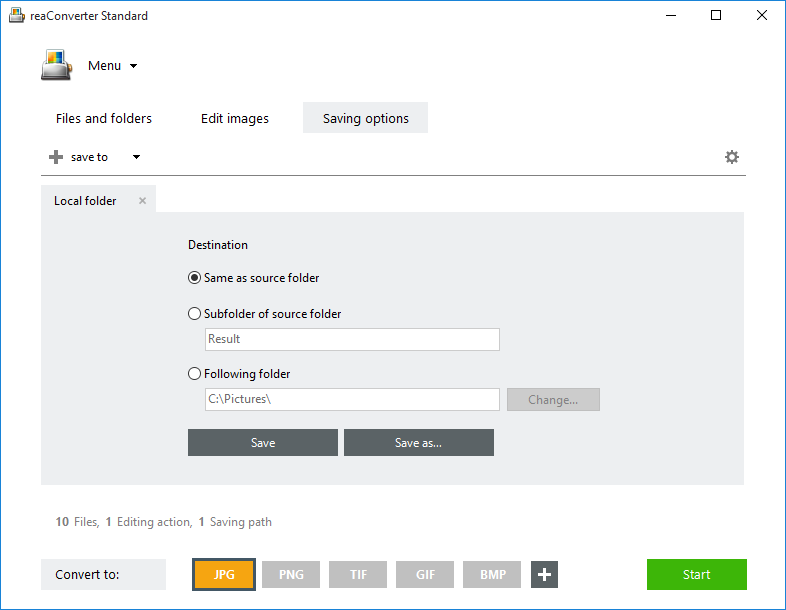 Then press the Start conversion button and quickly enjoy your watermarked pictures!
Video Tutorial
Advanced users can perform image watermarking using command line interface or DLL in manual, automated or scheduled mode. You are welcome to contact our technical support when you have any questions about reaConverter.