Editing a large amount of images can be extremely time consuming and drain you of energy and creativity. And when you are a professional photographer or designer, these qualities are something you want to particularly hang on to! For this reason, reaConverter brings you one step closer to avoiding repetitive and dull batch image editing operations by adding an additional feature called Watch Folders.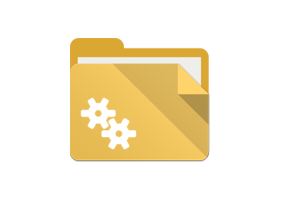 With Watch Folders you can configure reaConverter to monitor your image folders and automatically apply specific actions to all files included in each one of them. For example, you might have one folder in which you add all images that need resizing, another one for converting from CR2 to JPG and yet another one for images which need both these features.
How does it work?
Create an input and an output folder. The first one will be your "watch folder", so all images you will drop inside it will be automatically converted and edited. The second one will be the folder where your images will be stored after editing.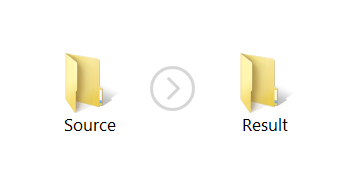 Configuration File
Create a .cfg file. Configuration (.cfg) files contain information regarding the extension to which you want to convert images, the name of the output files, the destination folder and other additional settings. Configuration file can be created using reaConverter. You can easily create a .cfg file using the Save configuration as feature from the Menu button, after you have selected a series of desired settings.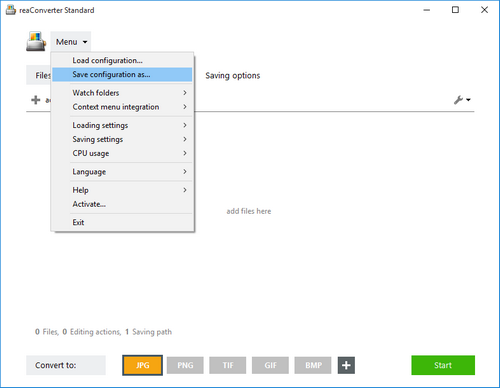 Watch Folders feature can be coupled with others that apply automatic commands and help you manage your files easier and faster, such as Move original files to, Move unprocessed files to or Delete files after conversion. For example, you can save a .cfg file after selecting one or more of these settings from Menu → Saving Settings → Additional Saving Settings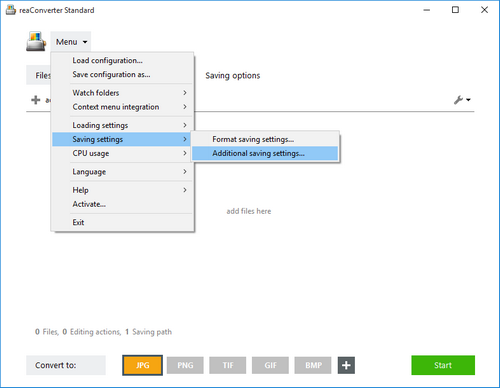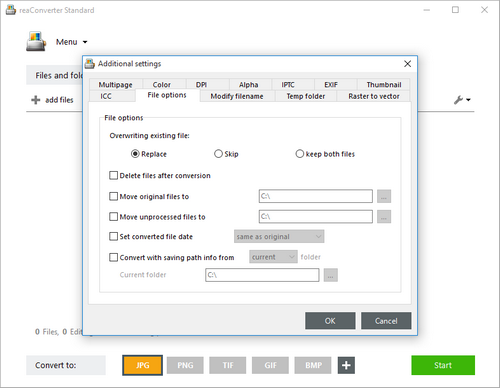 Action File
Create an .act file. Action files files contain the actual editing features you want to apply (e.g.: resizing, cropping, rotating, adjusting brightness, watermarking etc.). Action file is also simple to create directly inside reaConverter. Just go to the Edit Images section, select all the desired editing features and then save them by clicking Save actions to file as.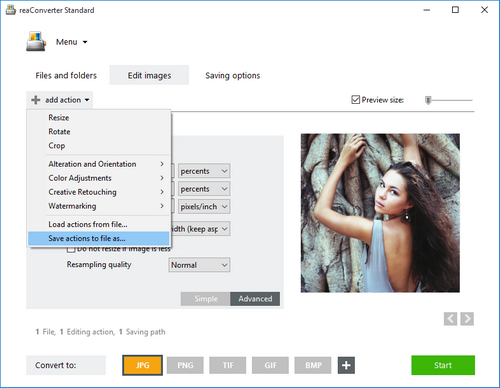 Create Watch Folder
In reaConverter's main window, press the Menu button, and then pick Watch Folders. Here simply tick ON.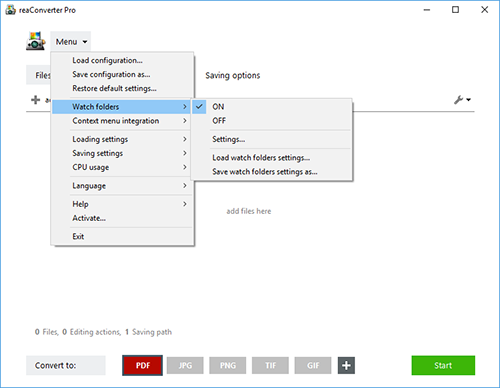 Then go to the Settings section.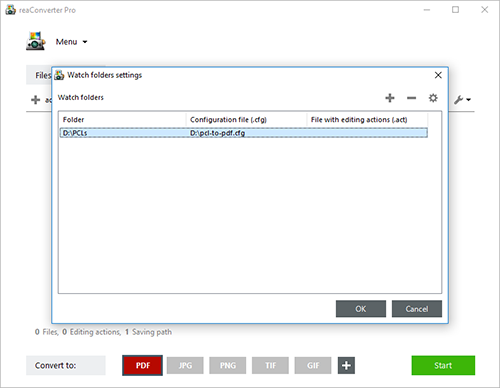 You can now create custom Watch Folder. In this new window you can choose the .cfg (configuration) and .act (action) files that were previously created, and you can assign them to the desired input image folder.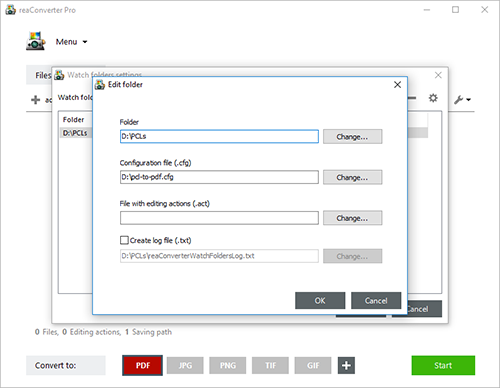 Now all the images you will drop in the input folder will automatically be processed according your .cfg and .act files and will appear in the output folder.
Video tutorial
In the attached video tutorial we will illustrate how to automatically resize and convert images from JPG to PNG format using reaConverter's Watch Folders feature.